Regular price
$315.00
Sale price
$159.00
Unit price
per
Sale
Sold out
Share

There is always something alluring about a polished, traditional frame. The VCORE PRO combines the feel and flex of a traditional racquet with modern, ball-crushing technology to provide pinpoint control. Namd* graphite combined with a thinner, longer shaft beam and lowered throat help activate an aggressive, heavy ball, resulting in 4% more spin and a 10-centimeter higher bounce to catch your opponent off guard.
Equipped with Vibration Dampening Mesh (VDM) to filter unwanted vibrations, the VCORE PRO is designed for heavy-hitters looking to crush with control.
MORE SPIN, MORE SPEED, MORE BOUNCE HEIGHT 
Higher bounce due to greater spin and speed. Creates heavy drives with devastating power. 
VCORE PRO 100
For aggressive players looking for control and feel.
Product Description  
Description: For aggressive players looking for control and feel.
Head Size: 100 sq. in. 
Weight:  G: 300 g / 10.6 oz | LG: 280 g / 9.9 oz
Grip Size:  G: 1 - 5 / LG: 0 - 4
Length: 27 in. 
Width Range: 21mm - 21mm - 21mm
Balance Point: G: 320 mm / LG: 335 mm
Material: HM Graphite / Black Micro Core / Namd / VDM
Color: Matte Green
Rec. String:  POLYTOUR STRIKE / POLYTOUR PRO / REXIS
Stringing Pattern: 16x19
Stringing Advice: 45-60lbs
Made in: Japan
Product Technology
For Enhanced Sweet Spot
A square-shaped ISOMETRICTM racquet generates a 7% larger sweet spot for greater control without sacrificing power.
Developed over 30 years ago, the ISOMETRIC™ design increases the sweet spot by 7%*. Compared to a conventional round frame, a square-shaped ISOMETRIC™ racquet generates a larger sweet spot by optimizing the intersection of the main and cross strings. ISOMETRIC™ technology delivers greater control without sacrificing power.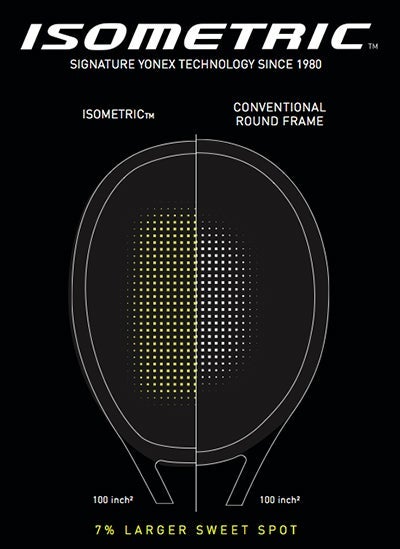 For Heavy Drives
Incorporated in the throat of the racquet, this revolutionary graphite maintains its flex during fast swing speeds so you can overpower with heavy drives. *Namd is technology developed by Nitta Co., Ltd. to 'uniformly disperse carbon nanotubes in carbon fiber composites.'
VDM (Vibration Dampening Mesh)
For added touch and precision
A stretchy mesh material is wrapped around the graphite within the grip to filter unwanted vibrations.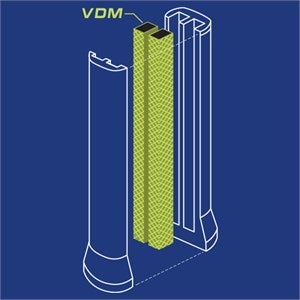 For a plush, comfortable feel
By varying the outer angle of the aero-shaped frame, the middle and upper hoop are plush, while the lower hoop is stable.
Carbon graphite and elastic particles are added to MICRO CORE technology for increased face stability and even better vibration dampening.
The throat grooves of the 3D Vector Shaft improve racquet stiffness, generating supreme face stability and giving players more efficient power.
View full details