Regular price
$220.00
Sale price
$169.00
Unit price
per
Sale
Sold out
Share

Harness your power. Unlock your spin. Revolutionize your game.
The VCORE features a toolbox of spin waiting to be unlocked – heavy spin, attacking spin, topspin, backspin, side spin…every type of spin. Think of a fast, red car – speedy, slick, smooth – that's the 6th-generation VCORE. New materials combine with innovation to increase string snapback and movement, giving players access to the most spin in Yonex tennis history. Yes, it has even more RPM's than the previous model*, producing trajectories your opponent has never seen before.
Win with the best-spin racquet in Yonex tennis history. By combining innovative technology with our signature ISOMETRICTM frame, the VCORE is engineered for higher spin. New Aero Fin technology above the throat creates a faster, thinner frame for increased ball-pocketing. Newly engineered straight hole grommets allow for more string movement to expand the horizontal sweet spot, while the Aero Trench reduces air resistance for easy maneuverability. 
VCORE Feel
For beginners and transitioning juniors looking for a light, maneuverable racquet designed for spin and speed. 
For juniors transitioning to an adult-size racquet
Product Description  
Description: LIGHT, EXPLOSIVE RACQUET WITH SPIN & POWER
Head Size:  100 sq. in. 
Weight: 250g  / 8.8oz 
Grip Size: 0-4
Length: 27.5 in. 
Width Range: 24 mm - 26 mm - 22 mm
Balance Point:  345mm
Material: HM Graphite / NANOMESH NEO / VDM
Color: Tango Red
Rec. String: POLYTOUR FIRE / POLYTOUR PRO / REXIS
Stringing Pattern:  16x18
String Advice: 40-55 lbs
Original US Version
Product Technology
For Enhanced Sweet Spot
A square-shaped ISOMETRICTM racquet generates a 7% larger sweet spot for greater control without sacrificing power.
Developed over 30 years ago, the ISOMETRIC™ design increases the sweet spot by 7%*. Compared to a conventional round frame, a square-shaped ISOMETRIC™ racquet generates a larger sweet spot by optimizing the intersection of the main and cross strings. ISOMETRIC™ technology delivers greater control without sacrificing power.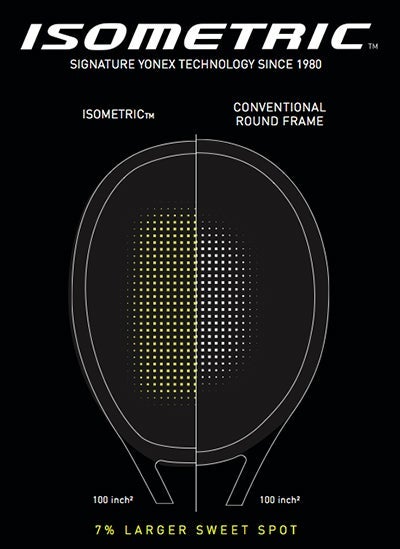 FOR AGGRESSIVE, ATTACKING SPIN
A revolutionary graphite designed to maintain its flex during fast swing speeds so you can grip the ball to produce aggressive, attacking spin.
*Namd is technology developed by Nitta Co., Ltd. to 'uniformly disperse carbon nanotubes in carbon fiber composites.'
For easy Maneuverability.
An innovative design created to reduce air resistance by shielding the grommets at the top of the frame for faster swing speeds.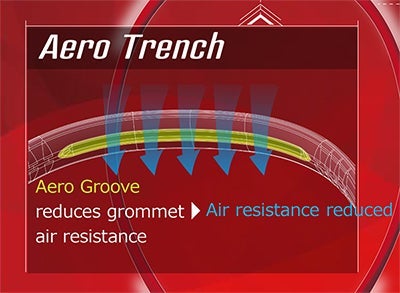 For a plush, comfortable feel
By varying the outer angle of the aero-shaped frame, the middle and upper hoop are plush, while the lower hoop is stable.
For maximum spin potential
Newly engineered straight hole grommets allow more string movement on off-centered shots.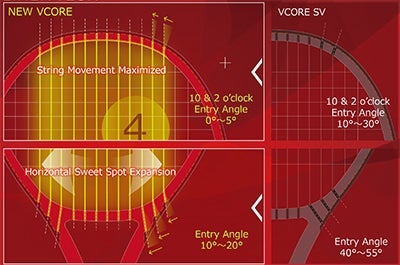 Increased spin and control
Shaft corners are rounded for an ideal flex at impact to increase dwell time for optimal spin and directional control.
For improved power and comfort
Straight hole grommets elongate the strings to optimize power and comfort on off-center shots.
A Faster Frame for More Spin
Enhanced Aero Fin technology above the throat creates a faster, thinner frame for increased ball-pocketing.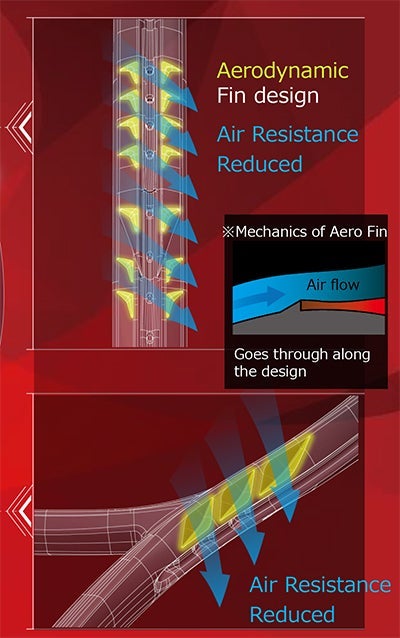 View full details