Regular price
$247.00
Sale price
$199.99
Unit price
per
Sale
Sold out
Share
 
Astrox 100 Tour (Kurenai) 
PRODUCT DESCRIPTION  
Original YONEX US Version
Grip Size: G5 
Weight: 4U (Ave 83g) 
Color: Kurenai
Flex: Extra Stiff
Length: 10mm Longer
Frame: HM Graphite / Nanomesh Neo / Tungsten
Shaft:  HM Graphite / NANOMESH NEO
Cover: Yonex Full Cover
Recommended String: Control Players : Aerobite Boost, Hard Hitters: BG 66 Force
Stringing Advice: 4U: 20 - 28 lbs
PRODUCT TECHNOLOGY
Ensures a stronger more flexible frame, while increased shaft flex creates maximum power.
ROTATIONAL GENERATOR SYSTEM
By applying the counterbalance theory, weight is distributed throughout the grip end, frame top and the joint for maximum control. The transition to the next shot can be performed smoothly, with rapid succession.
Uniquely shaped cap which maximizes shaft performance.The front allows the shaft to flex, while the sides arch-shaped curve stabilizes the racquet face by preventing the shaft from twisting.
Thinnest, Strongest Ever Produced by Yonex
Cutting edge NANOMETRIC carbon technology is used to produce an ultra-thin, ultra-tough, aerodynamic shaft, created for a stronger and more intense shot.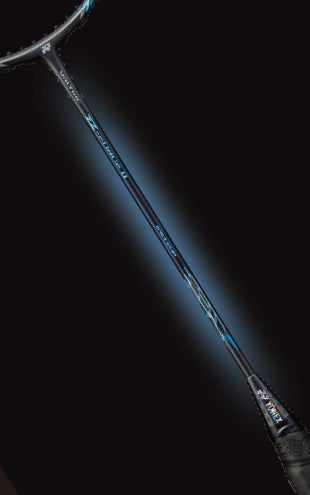 Utilizing high quality Namd graphite throughout the frame produces more flex with a faster snapback, unleashing dramatic steep power.
The ISOMETRIC™ equalizes the length of the main and cross strings in the string-bed, enlarging the sweet spot for more consistent accuracy even on off-centre hits.
Combines solid hitting feel and quick swing.
The built-in solid feel core cuts harmful miscellaneous vibration at impact. Solid feel core is carried in all racquets manufactured in Japan.
'NEW' Built-in T-Joint is manufactured from a special lightweight plastic combined with epoxy resin and foaming agent that enhances quality and performance by increasing the stability of the shuttle on the string bed and through the air.
View full details