Yonex Power Cushion Aerus Ladies (Pale Blue)
A key feature of all YONEX footwear, the YONEX POWER CUSHION absorbs shock then reverses the impact energy for smooth transfer into the next movement.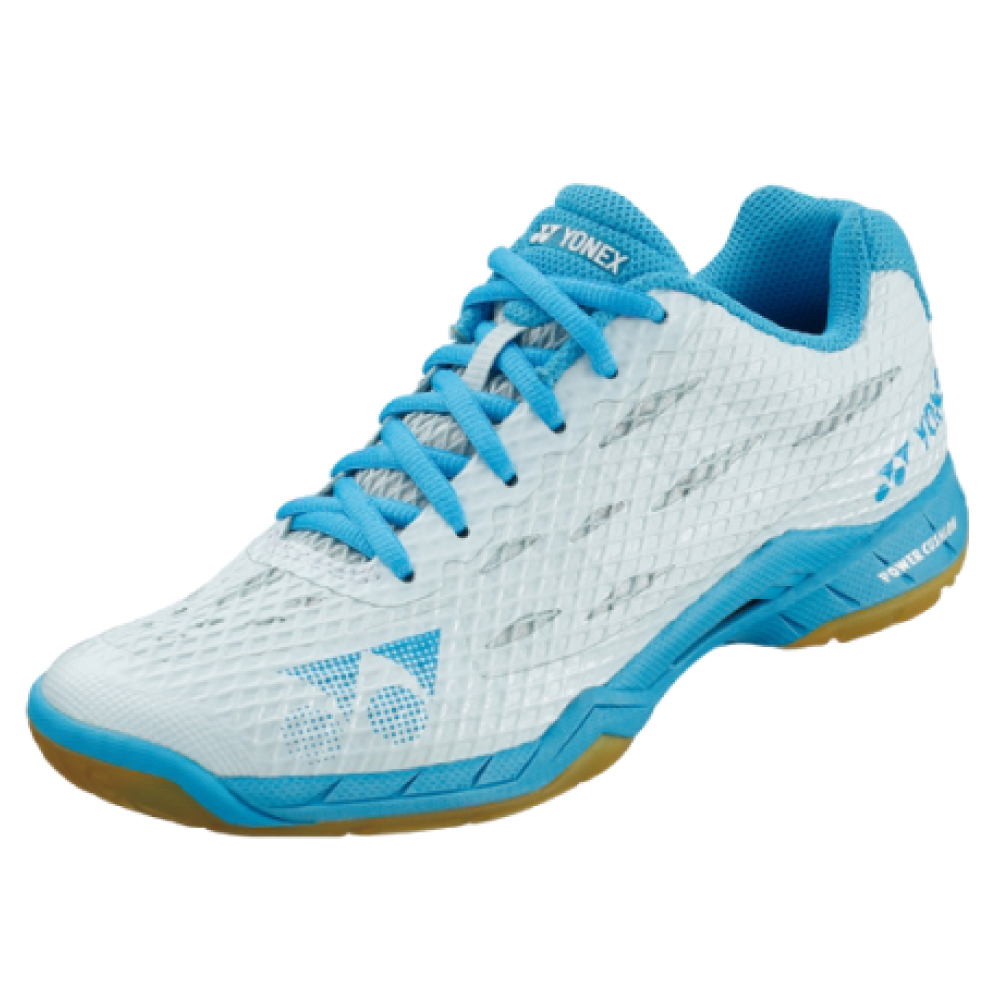 Product Description  
Color: Pale Blue
Upper: P.U. Leather, Double Russel Mesh
Midsole: Hyper msLite, Power Cushion, Solid E.V.A., 3D Power Graphite Sheet
Outsole: Rubber
Product Technology
The hard top and bottom layers absorb 30% more shock than our original Power Cushion and provide 5% more repulsion for enhanced transfer of energy. The soft middle layer quickly returns to its original shape after receiving a shock load, converting the shock energy into power for fast and light footwork.
Hyper msLite is a further 10% lighter than the original high-performance midsole and provides greater durability and comfort.
The YONEX Round Sole is designed to provide all-around support for quick and smooth footwork. The Round Sole ensures smooth movements and transfer of maximum energy.
A super-light graphite plate is inserted under the middle portion of the foot to increase stability and reduce weight within the shoe.
For agile and stable footwork, the hexagrip pattern provides 3% more grip and is 20% lighter than standard sole material.
A toe-centric design that cuts down on pressure in the big toe, as well as offering improved support at the mid-foot and heel for a stable fit. Power loss is reduced, allowing for swift footwork.
Tough Guard IV provides improved protection towards friction and heat abrasion—roughly 30% more than the original. Also with a more solid fit and softer reinforcing material at the toes, Tough Guard IV is specifically made with badminton's quick and unique footwork in mind.
Combining rubber-like flexibility with the stiffness of hard plastic, the polyurethane-based Durable Skin Light lets you play light on your feet while maintaining a robust fit.
Every product is unique, just like you. If you're looking for a product that fits the mold of your life, the Yonex Power Cushion Aerus Ladies (Pale Blue) is for you.

Inventory Last Updated: Oct 26, 2021