Regular price
$32.00
Sale price
$18.00
Unit price
per
Sale
Sold out
Share
Yonex has created a range of racquets specially designed for younger players. Whatever your age or ability, there is a Yonex racquet designed to perfectly match your game to help take your shot-making to the next level.
EZONE Junior
Introducing tennis to young starter players in the right way is critical. As well as helping players to develop a range of physical skills, the red, orange and green stages, gradually teach tactical and technical elements of the game on smaller courts using slower balls.
CHOOSING THE RIGHT JUNIOR RACQUET
Junior racquets typically target a specific age and height range. Learn more about which frame best suits your child!
Product Description  
Head Size:  58 sq.in.
Weight: 160 g / 5.6 oz
Grip Size:  4
Length: 17 in.
Width Range:  22 mm - 22 mm - 22 mm
Balance Point:  210mm
Material:  Aluminum
Color: Blue, Pink
Rec. String:  TOUR SUPER 850, REXIS
Stringing Pattern: 10 x 10
Rec. Tension:  25-35 lbs.
Product Technology
For Enhanced Sweet Spot
A square-shaped ISOMETRICTM racquet generates a 7% larger sweet spot for greater control without sacrificing power.
Developed over 30 years ago, the ISOMETRIC™ design increases the sweet spot by 7%*. Compared to a conventional round frame, a square-shaped ISOMETRIC™ racquet generates a larger sweet spot by optimizing the intersection of the main and cross strings. ISOMETRIC™ technology delivers greater control without sacrificing power.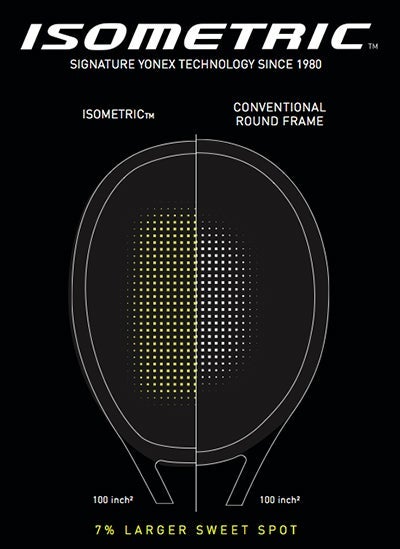 View full details