82026 6pk Active Racquet Bag

Carry your gear in a more convenient and secure way with Yonex Racket Bag!
82026 6pk Racket bag can hold up to 6 rackets and apparel in its two large main compartments. All of your accessories, valuables and smaller personal items can be stored in the zipped side pockets.
PRODUCT DESCRIPTION  
YONEX ACTIVE SERIES 82026
Color: Lime Yellow
Measurement: 77 x 26 x 32cm (30.3" x 10.2" x 12.6")
Material: 70% polyester 30% PU
Upper shoe compartment - shoes can be packed away at the top of the bag 
Two large compartments - fits approximately 6 rackets
Medium size compartment - miscellaneous items 
Small mesh pouch inside large compartment space
Two straps - can be used as a backpack for easy transport.
Grab handle at the top of the bag (this is handy when you need to hold onto your bag vertically while standing!)
Fits full length badminton, tennis, and squash rackets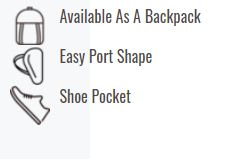 The Yonex 82026 (Lime Yellow) 6pk Active Badminton Tennis Racket Bag was built with people like you in mind. Something to keep you happy. Every. Single. Day.

Inventory Last Updated: May 26, 2022