Yonex 75TH Power Cushion 65 Z2 Men (White)
POWER CUSHION+ construction enables a new level of fast and light footwork. Available for men and women.
Product Description  
Yonex 75th Anniversary Limited Edition
Color: White
Upper: Synthetic fiber
Midsole: Synthetic resin
Outsole: Rubber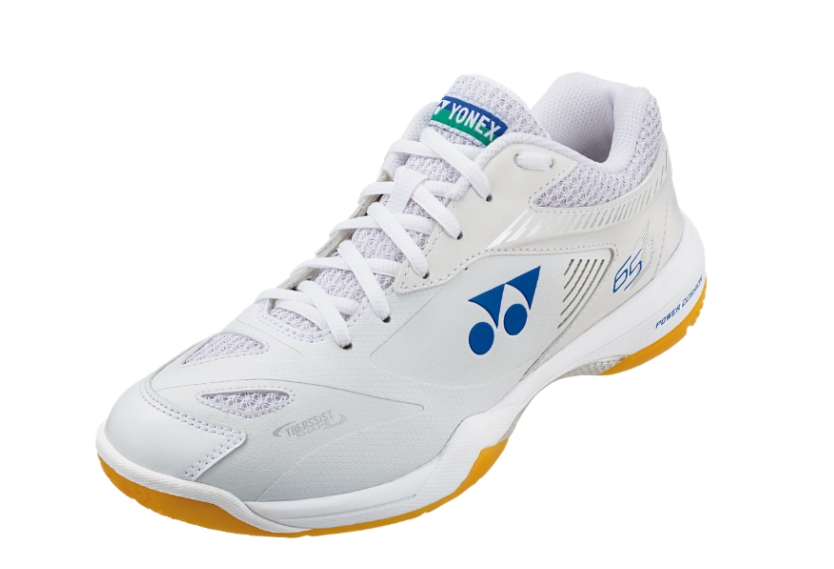 PRODUCT TECHNOLOGY
By adding a special elastic resin to POWER CUSHION, while maintaining the conventional lightweight properties, high shock absorption is realized. Grooves designed in a lattice pattern, with optimum spacing and depth, achieve further resilience.
Compared with conventional POWER CUSHION, the new POWER CUSHION+ boasts 25% more shock absorption and 12% more repulsion.
A toe-centric design that cuts down on pressure in the big toe, as well as offering improved support at the mid-foot and heel for a stable fit. Power loss is reduced, allowing for swift footwork.
The Lateral Shell located on the outside of the forefoot prevents sliding at the edge of the sole. It reduces power loss, increases footwork response and creates smooth, fluid and offensive foot movements.
The YONEX Round Sole is designed to provide all-around support for quick and smooth footwork. The Round Sole ensures smooth movements and transfer of maximum energy.
A super-light graphite plate is inserted under the middle portion of the foot to increase stability and reduce weight within the shoe.
YONEX Synchro-Fit Insole construction creates a secure contact between foot and shoe, reducing energy wastage through an improved fit.
Fig 1. Compared with conventional badminton shoes, the mid to heel section on the insole is elevated to provide an improved fit between foot and shoe.
Fig 2. By holding the heel firmly against the insole, the gap between foot and shoe is reduced, improving comfort and performance, ensuring the foot has maximum grip inside the shoe.
For agile and stable footwork, the hexagrip pattern provides 3% more grip and is 20% lighter than standard sole material.
Double Raschel Mesh is an ultra fine mesh that is extremely lightweight and durable. It provides eight times more air-exchange for releasing moisture than ordinary mesh fabric.
On the fence about this Yonex 75TH Power Cushion 65 Z2 Men (White)? Don't be. Let our satisfaction guarantee address your concerns.

Inventory Last Updated: May 20, 2022